Get Your Body Moving! Which Game Console Is Best For Exercise?
---
I may get commissions for purchases made through links in this post. As an Amazon Associate I earn from qualifying purchases. Please read my
full affiliate disclosure here
.
Video games get a bad rap for causing people to become couch potatoes, and I completely disagree with this notion.
With the current generation of consoles and VR technology, there are quite a few exercise, fitness, and sports games. From dancing to boxing, these games require active participation, encouraging you to get up and move around.
Here are my picks for the top consoles for exercise:
In a rush? Here's my top pick!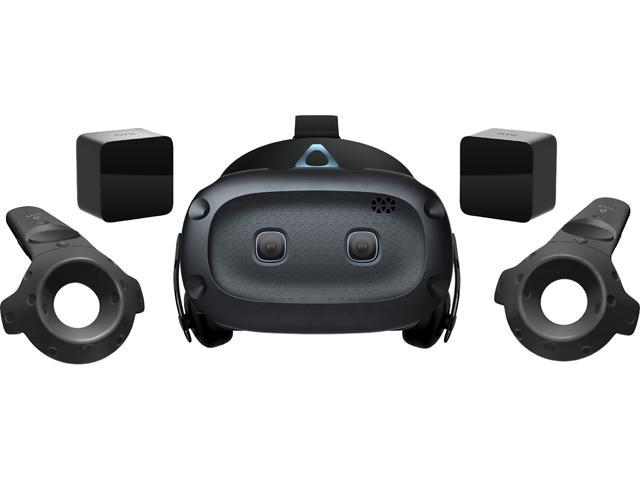 HTC Vive Cosmos Elite
The HTC Vive Cosmos Elite is one of the best headsets for gaming on the market. It allows the most accurate tracking.
Nintendo Switch
Ever since the Power Pad for the original NES, Nintendo has tried to find ways to keep people active. Recent examples include Wii Fit and Wii Fit Plus for the Nintendo Wii and Wii U.
The Nintendo Switch (Amazon) is the latest console from the company behind Super Mario Bros. While it doesn't have its own fitness board, it uses the sensors in the handheld controllers. Here's a closer look at some of the technical specs of the Joy-Con controllers:
Gyroscopes
Accelerometer
Motion IR camera
While these controllers can't track your movement within the room, they can track your arm movements. This is used in a variety of games that require physical activity, including:
Just Dance 2019
Sports Party
Fitness Boxing
American Ninja Warrior
Superbeat Xonic Ex
Arms
Most of these games require you to hold the controllers while performing various actions. They are fun for the entire family and require you to get up off the couch.
Check out Nintendo Switch on Amazon.
Microsoft Xbox
Xbox One and Xbox Kinect
Unlike the Switch, the Xbox doesn't have controllers that track your movement. It relies on the Kinect instead, which was first released for the Xbox 360.
Microsoft later released a second version of the Kinect for Xbox One. If you can get your hands on one, you should know that it offers superior tracking and these features:
1080p camera
Minimum distance of three feet
Detects facial expressions and heart rate
Tracks up to 25 individual joints, including thumbs
The Kinect is not as advanced at tracking compared to the sensors used for VR headsets, but it's better than the previous Kinect.
If you already have a Kinect, there is a great selection of exercise, sports, and fitness games:
These are a few of the most popular games for the Kinect, but there are still dozens of others to keep you busy.
Please note: Unfortunately, Microsoft has stopped manufacturing Kinect, so from now on it will be tougher to get it brand new. If you have Xbox One S or X, you will need a Kinect adapter.
Xbox Series X/S
With the release of Xbox Series X & Xbox Series S, many were thinking whether the console would support any VR or motion controls like Kinect.
Unfortunately Xbox spokesperson clarified that "VR for console is not a focus for us at this time." (source) Also, the new consoles are not compatible with Kinect.
Sony PlayStation
PlayStation 4
The PlayStation 4 (Amazon) is one of the most versatile options, as you have several different accessories to help with your workouts. Starting with the PlayStation 3, Sony released the Move motion controllers and Eye camera.
The Move works like the handheld controllers for the Switch while the Eye tracks movement like the Kinect, providing the best of both worlds. While these are cool accessories, Sony is focusing on the next big thing – virtual reality. Here is a quick look at the Sony PlayStation VR headset:
960 x 1080-pixel resolution per eye
120 Hz refresh rate
100-degree field of view
With the Sony PlayStation VR headset, the Move motion controllers and Eye camera are still used. This works great when playing action titles such as Skyrim and Resident Evil 7. You also get access to some of the best VR games for exercise (you can check one of the best VR games for exercise in my article here):
Astro Bot: Rescue Mission
Beat Saber
Superhot VR
Audioshield
Hot Squat
The Fastest Fist
Besides these options, you'll find at least half a dozen different VR boxing games.
PlayStation 5
PlayStation have posted on their blog that they will be introducing a new VR system for PS5. They didn't mention a specific date as I don't think it's their priority.
While VR games are compatible with PS5, you will need to purchase the PS VR headset, DualShock 4 wireless controller or PlayStation Move controller(s), and PS Camera (for PS4) which are all sold separately from the Playstation 5.
It's up to you whether you'd like to wait for the PS5 VR headset or purchase more products separately to make the PS VR headset compatible with PS5.
Oculus Rift VR System
Note: In August 2020, Oculus announced that starting October 2020, every new user of Oculus will be required to log in through a Facebook account. Oculus accounts will be supported until January 2023, though functionality might be limited.
If you don't feel comfortable providing Facebook your personal details, you can create a burner account or choose a different VR system.
With the positional and rotational tracking features, Oculus Quest (Amazon) can monitor every movement, allowing developers to create games that require more physical activity. The features are comparable to the Sony PlayStation VR, with a few differences: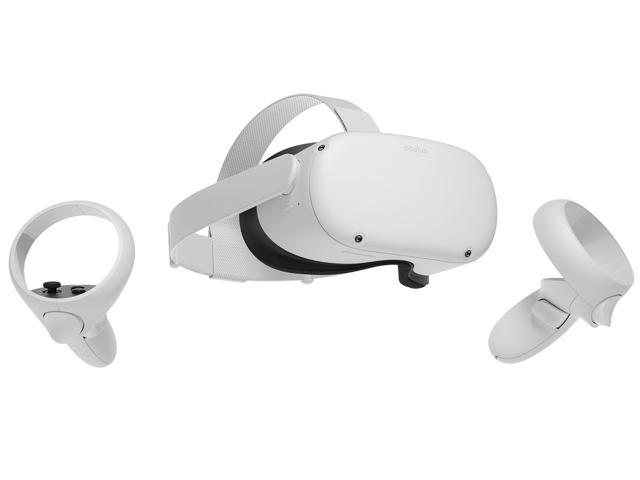 6DOF (six degrees of freedom) tracking
1832 x 1920-pixel resolution per eye
90 Hz refresh rate
110-degree field of view
SnapDragon XR 2 processor with 6GB RAM
supports HDR10+ content
built-in speakers with 3D audio
Oculus Quest 2 is at the top of the VR market and it's biggest advantage is that it doesn't require a PC or console. You can still connect it to a PC of course to enjoy all Oculus-compatible games.
If you plan on connecting your Quest 2 to the PC, bear in mind that it should meet these minimum requirements:
Windows 10
8GB RAM and more
Intel i5-4590 / AMD Ryzen 5 1500X or greater
1x USB port
some graphics cards may not be supported
the cable for PC connection is sold separately
The main benefit of this system is the six degrees of freedom (6DOF). It includes a 3-axis rotational tracking sensor and a 3-axis positional tracking sensor, for complete freedom of movement.
What games can you play? There are a surprising number of exercise and sports games that are compatible with the Oculus Quest 2, including:
Box VR
Knockout League
Beat Saber
Sprint Vector
Sparc
Superhot VR
Sword Master VR
Make sure you check out my article about the best VR games for exercise! They will make you sweat!
Keep in mind that many of these games are rated for teens or adults. While Sword Master VR and Superhot VR aren't super graphic, they do involve swordplay and first-person shooting.
HTC Vive Cosmos VR System
The HTC Vive Cosmos (Amazon) is a close competitor to the Oculus Quest 2. They are two of the leading VR consoles. Many of the best VR games for exercise are available on both systems.
Box VR, Knockout League, Beat Saber, Sprint Vector, and Sparc can be purchased for the Oculus Quest or HTC Vive Cosmos. In fact, some of these games are also available for PlayStation VR. Here are the main technical details: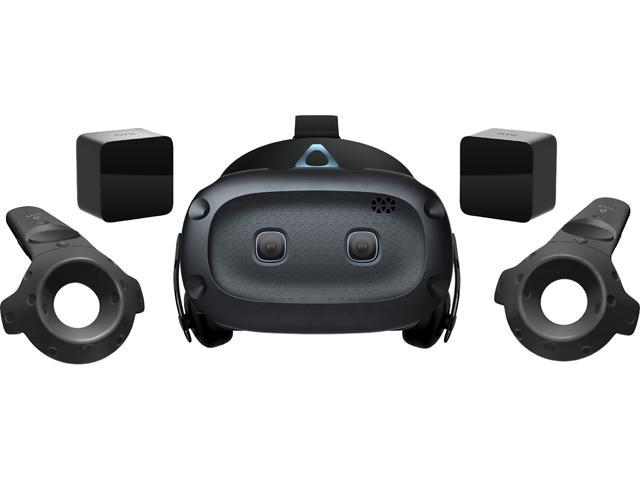 6DOF (six degrees of freedom) tracking
1440 x 1700 pixels per eye
90 Hz refresh rate
6 camera sensors
supports wide field of view (max 110 degrees)
in-built over the ear stereo headphones
supports Windows, SteamOS, and Linux
HTC Vive Cosmos Elite comes with 2 VIVE base stations, which will cover approximately 15m2.
Recommended minimum PC specs:
Graphics: NVIDIA GeForce GTX 970 / AMD Radeon R9 290 or better
Processor: Intel Core i5-4590 / AMD FX 8350 or better
Memory: 4GB RAM or more
Video Output: HDMI 1.4, Display Port 1.2 or newer
USB ports: 1x USB 3.0 or newer
Operating system: Windows 10
Why choose the Vive? It's best suited for those who want the most accurate tracking. The technology used in the Vive allows for improved motion-tracking. The only drawback is the cost, as it's one of the more expensive options.
Check out HTC Vive Cosmos on Amazon.
If you want to go even further and get rid of cables, HTC offers a wireless adapter.
Pico 4 VR
Truthfully, I haven't heard about the Pico 4 VR headset before, but stumbled on it recently during my regular internet browsing experience.
Pico headsets used to be released only in China, but have since moved to the European market. A big plus of the Pico 4 VR is that you do not need a social media account, just an email address.
You can use it as a standalone console, or you can connect it to the computer via USB-C cable or via Wi-Fi.
Resolution: 2160 x 2160 per eye
6DOF (six degrees of freedom) tracking
90 Hz refresh rate
Snapdragon X2 with 8GB RAM
5 integrated camera sensors (wide field of view – 105 degrees)
pancake lenses
comfortable weight distribution
2 controllers
full-color pass-through
comes in 128GB and 256GB versions
built-in speakers and microphone
Thanks to the user interface, you can install apps right to the headset without developer mode and without requiring a connection to your phone or a computer.
As a recently released console, the game catalog is not as vast as for example the Oculus Quest 2. However, new games are being added, so it's only a matter of time. That being said, Pico 4 can use SteamVR if you connect it to the computer, which gives you more games to play.
The Pico 4 VR is small and light compared to its competitors, weighs only 259 grams without the strap. Since the battery is on the back of the head strap, it sits better on your head and makes it more balanced, rather than having a ton of weight on your face.
The disadvantage of the Pico 4 VR is that it's only available for the European market, but you can still import it into the US, and it will work just fine.
Further Reading
What console would be your choice? Let me know in the comments!