Valentine's Day Gifts For Gamers (2023)
---
I may get commissions for purchases made through links in this post. As an Amazon Associate I earn from qualifying purchases. Please read my
full affiliate disclosure here
.
Don't let the title of this post fool you! Yes, you can decide to give these gifts on Valentine's Day but they are suitable for any kind of occasion – birthday, Christmas, anniversaries, or just because!
I've compiled a list of some cool gamer gifts found on Etsy (but not limited to!). I love supporting independent artists from all over the world and seeing what kind of fun and unique things they can craft up with their creativity.
This super cute Bulbasaur ceramic planter will look awesome on your desk, whether you choose a tiny succulent or a tiny fake plant.
The planter comes in 4 sizes or you can order the whole set! There is a drainage hole at the bottom and they are small enough to fit on a shelf or a window sill. The HappyHomeByNavya seller is located in Sweden and the shipping is free at the time of posting!
---
This beautiful Bioshock poster by AstroKidsPrint features Big Daddy and Little Sister. The poster comes in 4 sizes, is designed and shipped from the US. It should arrive within 10 days if you're in the US and up to 20 days elsewhere.
---
This Scorpion bust might measure only 4 inches but the level of detail is absolutely incredible! The statue weighs approximately 2.6 ounces. It ships from Russia, so please allow at least 30 days of delivery.
If you're looking for more Scorpion figures, I have compiled a few in this post!
---
Do you or a loved one like Animal Crossing? Now you can choose between studs or dangle earrings by guaxishop featuring your favorite villager!
There are three options for studs – .925 silver, plastic or ear clip (for those who don't have any holes). There are 4 options for dangles plus one with or without a tiny pom.  The characters are approximately 0.39 inches.
Each pair of earrings is packaged in a separate box. The seller is located in China, so please allow at least a month for the item to arrive.
Also don't forget to check out my post with tons more Animal Crossing gifts!
---
If you are into cosplay or simply like to collect video game weapon replicas, this handmade Lancer from Gears 5 by PockyyStoreFR will surely fit the bill!
It's made out of EVA foam and worbla (thermoplastic) with optional LED lights. It's about 36.6 inches and you can have it customized.
These are made to order, so keep in mind it will take a couple of weeks until it's finished. PockyyStoreFR is located in France, so it can take a while to reach the US. Shipping is already included in the price.
---
This cool Dying Light T-shirt comes in male and female fit, which is more form fitting. It comes in sizes from XS to 5XL. Make sure order according to the sizing chart. The seller is using European sizes, which run a bit smaller compared to the US.
AquarisCo ships from Russia, so it will take a while (14-28 days usually) until it reaches the US. Make sure to order well beforehand if you plan on gifting it on a specific date.
---
The pandemic has thrown a wrench to cons but thankfully there are services like Streamily, where you can order a signature from your favorite video game actor and watch them sign it live, usually on their Instagram and sometimes others like Twitch.
I've used Streamily before and I got a Lady Dimitrescu print signed by her voice and motion capture actor Maggie Robertson, as well as a Resident Evil Village trio print with Lady Dimitrescu and her daughters, played by Nicole Tompkins and Bekka Prewitt.
The overseas shipping is a killer and I think that it was worth it, esepcially watching all the livestreams, which kept me going in 2021.
You can usually choose from a variety of prints and even customize it (at the artist's discretion).
Here are some gaming related signing events:
Make sure to follow your favorite's social media, so you know when the next signing is happening!
Besides autographs, some artists might offer video messages/shout-outs, so make sure to check those out as well.
---
This Minecraft ore lamp by theBKPKshop will be a great addition to any room. It looks interesting and even non-gamers will like it!
It's made out of birch plywood (natural and stained) and white acrylic. It can be hung on a wall or sitting on a table. It includes a 40w lightbulb and 110v plug. If you're ordering from outside of US, make sure to mention it to the seller and they will include an adapter.
The theBKPKshop is located in the US.
---
It's definitely a subtle piece of gaming merch but for any Uncharted fan, it's a must have. The ring is engraved with the quote "Sic Parvis Magna", which means "Greatness From Small Beginnings".
The ring pendant is about 0.8 inches and the leather cord has adjustable length.
The DarkJourneyEmporium seller is located in United Kingdom and you can choose between standard and tracked shipping.
---
The 9.5 inch tall logo is made mostly out of medium density fibreboard wood. I love how textured it looks, the various levels of weathering, the added "moss/dirt" give it a 3D realistic feel. The seller Nerdoutboise is located in the US.
Psst, I reviewed an Ellie statue a while ago!
---
Who wouldn't want to be in one of the greatest video games of all time? Now you or your loved one can have their own GTA V promo shot made from your own photos. There are a few sizes you can choose from as well as what sort of photo you want – torso or full body, with extra objects like cars, etc.
Kai from HomifyDesign will customize your print however you wish. Make sure to specify what you want in terms of colors, background and more and they'll be happy to do it for you. As these posters are personalized, returns aren't accepted. The poster ships from Germany.
Digital-only alternative is available here.
---
This chest is a perfect keepsake box or functional decoration. It features a burnt in Hyrule logo and Marks of the Goddesses. There are two sizes available – 9.8 inch and 11.8 inch. You can choose from a variety of wood finishes and even personalize it further with a quote, a name, etc. You can choose to have a music box inside as well, playing a tune from the game.
The seller, Theburnttree, is located in United Kingdom, shipping is free at the time of posting.
If you're looking for some Legend of Zelda statues or figures, head on over to my post here!
---
If you want to pamper yourself or a loved one, why not give them a Persona themed wellness gift box? It includes a Milk and Honey whipped sugar scrub, soap card set, 4oz soy candle, coffee lip balm and black amber and lavender fragrance oil.
The SnowsCutSoaps seller is located in North Carolina. The seller also provides these items individually if you don't want to purchase the whole box.
---
This Orlog game is beautifully crafted from birch wood and engraved by laser. The complete set includes 20 gods, 12 dice, 30 god power tokens, 30 stones and laser engraved set of rules.
However, you can customize the set further, you can opt to have text on the front/back of the god card or just a simple image, you can order a box to keep the game in. CustomByLaser also provides "imperfect" sets of the game – the game is fully functional, the engraving might be a bit off-center or with uneven burn.
The CustomByLaser seller is located in Virginia, the shipping is free at the time of posting.
---
Who doesn't love enamel pins? Especially when they're as cute as these Valorant gold plated enamel pins! Each enamel pin is approximately 1.25 inches and comes with a matching card. You can choose from Jett, Sage, Omen and KJ and even add Jett's Kunai knife pins (~0.5 inch) to the set.
The seller eRabbits is located in Canada and the package is always tracked!
---
Junimos in Stardew Valley are so cute and these crocheted ones are no different! They are approximately 2 inches tall and come in a plethora of colors for you to choose from.
They are made out of 100% acrylic and stuffed with washable polyester stuffing for extra squish. You can wash them in the wash machine on a gentle cycle in lukewarm.
The seller Yarnitbunny is located in Singapore and the Junimos are sent in a tracked package.
---
Whether your play Dani in Far Cry 6 as female or male, the necklace stays the same. This handmade replica features bolts, beads and a custom St. Christopher's charm. The seller OutcastArtifacts is based in The Netherlands and offers free shipping at the time of posting.
---
I'm a bit a lot obsessed with this game at the moment and it's at the stage where I just want every piece of merch I can get my hands on. My wallet says no though, so I can only longingly stare at things.
This Lady Dimitrescu statue by GizmoForge is no exception, such a cool design! It's a perfect collectible for any Resident Evil Village fan. The statue is made out of PLA plastic and is about 8 inches tall. It ships from the US.
I also have posts about Lady Dimitrescu cosplay/costumes and Resident Evil gifts, so check them out if you're interested!
---
I'm a sucker for beautiful fanart, textures and overall compositions and that's why I picked this Master Chief poster. It comes in A4 or A3 format on a high quality 210gsm matt paper.
The seller, InkyGorilla, is based in United Kingdom. If you'd like to track your package, you will need to upgrade your postage.
---
These Playstation buttons wall decorations are so cool! They are made out of bio plastic, are about 4 inches big on average and half an inch thick. You can order them in all black or in the original colors. It comes with little glue dots so you can fasten them to your wall.
The seller, Plasl, pride themselves on their 100% recyclable and biodegradable products. The buttons ship from Germany.
---
Similar to Streamily, on Cameo you can get a video shoutout from your fave! I've used Cameo before to gift messages to my friends for their birthday. The experience was always great and it was so cool to see my friends' reactions.
Whether it's Liam McIntyre (Gears of War), David Hayter (Metal Gear Solid), Nolan North (Uncharted, Assassin's Creed), Victoria Atkin (Assassin's Creed), Jeff Schine (Resident Evil, The Walking Dead games) or someone else, I'm sure you or your loved one will be very happy.
Besides video game voiceover actors you can find other actors, musicians, sport stars and more.
---
One can never have too many keychains! With these Call of Duty: Zombies inspired keychains, you can choose from 10 different designs. The seller, BeefysDoodles, is located in the United Kingdom and offers free shipping to the UK.
If you're looking for more Call of Duty gifts, check out my Call of Duty gift guide!
---
Whether they're going to be used for whiskey or just a soft drink, these Overwatch themed glasses will definitely spice up your kitchenware cabinet. There are two styles you can choose from – black background with design or 'inverted' transparent background with black design.
You can buy a single glass with a character of your choice, or you can buy a set of 4 or 8. Additionally, you can order a decanter with the Overwatch logo on it.
The seller, NewYorkCityNikki is based in the US. Each item is made to order and can be personalized further.
---
This stunning figure of Loba from Apex Legends is 3D printed in semi-matte white PLA. She stands at about 12.5 inches and the print is incredibly detailed. It takes up to 7 days to print the entire figure and then a few days for touch ups by hand. You can paint it yourself or leave it as it is, it's a stunning piece regardless!
The seller LootDrop3D is from the US, the shipping is free at the time of posting. They also have other Apex Legends figures (plus a gorgeous limited edition XXL Loba statue) and some Valorant items as well.
---
I really like gifts that can be personalized and a little initial charm on a necklace is subtle and perfect! There are few options for chain type – silver plated, sterling silver, black cord or black leath and various lengths. You can add further personalization to the box and a gift card inside or even order extras like other initials and birthstone charms.
The seller, FairyFountainGifts, is located in United Kingdom.
---
Graphic artist nerd alert I absolutely love the vibrant colors of this poster and the composition is stunning! You can order the poster in several different sizes. The frame is not included and the poster ships in a tube. The seller, TheHorizonStories is located in Italy.
---
This 8.6″ tall bust of Kratos from God of War is 3D printed and then hand painted. It's so incredibly detailed! If you'd like to paint it yourself, the seller ArjaStl can send you a blank bust which you can customize to your own liking!
It can take up to 3 months to finish this bust, so if you want it by a certain date, make sure to order it well in advance. ArjaStl is located in Poland.
---
If you don't want a large figure or statue, you can definitely try this beautiful 4″ acrylic Aerith figure with a stand. The seller, AcrylicImperium, is located in Florida.
---
Who doesn't love squishy plushies? This cute Spiderman octopus is just that PLUS it's reversible. The seller, JoMurraysart is located in United Kingdom and at the time of posting there is free worldwide shipping.
---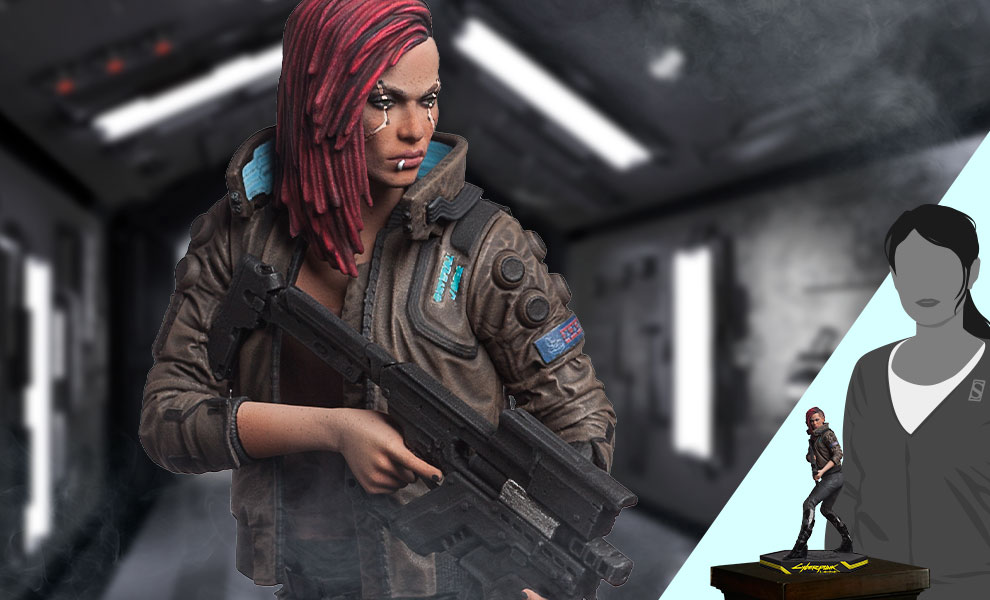 This Female V statue from Cyberpunk 2077 is approximately 12.5 inches tall. It was created by Dark Horse Comics. I have a few experiences with Dark Horse Comics figures/statues (Geralt & Ellie), so I know they are an exceptional quality.
If you'd like a posable action figure, there's also a sixth-scale Female V figure available.
---
Like this post? Pin it!
---
Looking for more gifts? Check out my other gift guides below: